You see, the huge companies may have the financial resources and the famous people in the industry. So, how are you supposed to compete with these Goliaths? What can you do to, at least, get a piece of their fame? Is it even doable in the first place?
Focus on Their Weakness
If you focus on their strengths, you will just wallow in despair. No, don't look at those. Instead, find out where they are lacking. Always go for their weaknesses because everyone has, at least, one.
Fill in the gaps.
First, you need to do a content audit. List all the keywords that you want to rank for and the keywords you haven't.
Then, compare your data with your competitors. This will give you an idea on what keywords you and your competitor are ranking for. Check if the industry players are not ranking for these terms. If not, then, take it as an opportunity to gain an advantage.
For instance, you chose the education industry and rank for "learn Russian." If you wish to compete with companies such as Duolingo and Rosetta Stone. Then, you will have an idea to rank for words like "private Russian tutor" and "One-on-one Russian classes". Of course, these terms are not what the key industry player is aiming for.
Create more content to fill the gaps.
Next, you should also look at the content formats that are not being used by these companies. If you see more text-based tutorials, then, make a video tutorial. If you notice that everyone is doing a video tutorial, maybe creating worksheets and PDF files to clearly illustrate the diagrams and charts.
Now that you know what kind of content format to use, you can take advantage and make more of what is currently lacking. If you think there are NO advanced language lessons, go ahead and do that. Stop competing in the basic level, for sure, most people have shared basic phrases they know.
Show your strength.
Focus on the things you can control. Improvements do not need to be technical. First, you start by proofreading your content. Polish and assure only excellent quality. You really don't need to invest money on that. For content formating, it just needs time and patience.
Enhance how content is displayed: change the font type, font type, colors, etc. Make it look professional. Most of the time, people rely on the standard template. No, be particular on the little details to up your performance.
Aside from that, formulate unique and catchy meta description to encourage people to click your page.
Use other methods.
There are things you can use to your advantage. For example, social media. Promote your website or posts here. Add relevant #hashtags when posting.
Look at how the larger brands do their advertising campaigns. In reality, even huge companies utilize multiple platforms to promote. They don't stick to one so you better do the same as well!
If you don't know where to start, begin by doing these 5 Tips in Making Your Weekly SEO Strategy Simpler.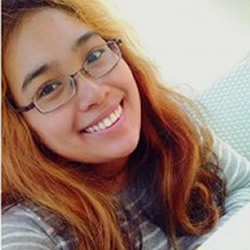 Latest posts by Carmel Lago
(see all)