In Quick and Easy Ways to Improve Website Content (Part 1), I reiterated the importance of content. Without it, your website is nothing. That is why creating excellent content is very important.
Even if you use state-of-the-art website tools and premium SEO tools, it will not be enough when your content is just average. Every content is aimed towards conversion. If it fails to convert people to customers, then, all your efforts is useless. In this blog post, I will give you simple and easy to follow tips in order to take your content to a higher notch. Read more about it below:
It's not always the money.
Yes, one of your goals may be to increase sales. However, you have to remember to NOT always focus on selling. Don't try too hard on selling your products to people like convincing people to buy, going extra lengths to promote, and exorbitant marketing and sales posts.
Take note, people visit websites in order to browse. Upon their search for information, these people want value and quality. No one cares about ads!
You may counter and say that there's no harm in mentioning the latest website promos especially if that is part of the user's search intent. However, you need to keep in mind that customers may find this strategy as too much. So, try not to bombard potential customers with sales and promos.
Give a valuable insight.
Sometimes, the content on a website is merely there to occupy space and mention keywords. No, you should NOT do this.
Content should be relevant and valuable to the audience. How can you do that? You inform, educate, and/or provide your expert opinion on certain topics. Remember, every website content should be created with a purpose in mind. No one would read paragraphs of texts for nothing.
Knowing your goal is important in any business venture. Of course, you would want to known as someone who would provide exemplary content to your audience. Exceptional and superb are the words you want to be associated with your website. So, delete any content that has nothing to do with being excellent. Moreover, avoid adding fluff that will just hinder your audience from fully understanding the topic you are discussing.
So, avoid beating around the bush, and strive to be helpful and concise at the same time. Everyone wants the shortest explanation possible.
Add research, surveys, and statistical data.
Lastly, when you add numbers, people will like that. For instance, saying that 'The average bounce rate of websites would be around 41% to 55%.' More on: 3 Reasons Why Your Website Has a Huge Bounce Rate
Do you know why this strategy works effectively?
Numbers make the article more credible. According to Hubspot.com, blog posts with actual numbers on their titles have around 175% chances to be shared than those without digits.
The audience can clearly understand the topic more with the numbers to back up the current trend.
With these numbers, people can also predict the future  relevant trends. For example, if there is a continued upward rise, then, we can safely say that the trend will continue to gain popularity.
Next? 3 Quick and Easy Ways to Improve Website Content (Part 3)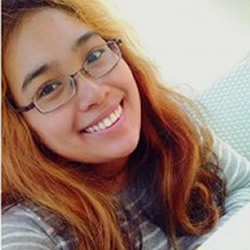 Latest posts by Carmel Lago
(see all)