Did you know that Google gets over 60,000 searches every single second. That equates to over 5 billion searches every single day. Did you also know that almost half of these searches are for local-based queries. That's how large the local SEO market is — it's vast.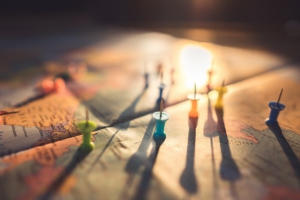 This is why so many businesses invest heavily into local SEO. When you optimize your online presence for Google and local SEO in general, you're able to drive visitors to both your website and your store. There are a number of ways to do this, including creating citations, setting up a Google My Business account and getting reviews.
All of these strategies are important. But they are not everything. There are several other things that are important if you want to rule local search results. One of these methods is location pages.
What is a location page?
A location page is a page on your website that is dedicated to detailing everything possible about one of your business locations. If you have more than one store or office, you will need to create location pages for every different store and location. These pages will contain information like the following:
The address of your store
Contact details such as your phone number
Opening hours
Anything else that customers might need to know such as directions
You can also include information about what is on offer at that store or office, who works there, how it is different to your other locations and pictures of the premises.
If you have a very large business, you may want to turn each location page into its own microsite. This can be useful if you cover a very wide area and have a lot of very specific information about each area. That way, you can create specific blog posts for each location and host them on the location page.
Why location pages are important for SEO
There are dozens of factors that Google considers when it comes to ranking local businesses in organic results and the map pack. Your website is one of them. It's not enough to just put your address on your website, especially if you have more than one location. Google can't get the information that it needs from that alone. But by creating a separate page for each location and filling it with loads of information, Google can find what it needs to decipher what your business offers and where it is located.
Location pages also give you another chance of ranking in search results. They won't just help boost your chances of appearing in the map pack, but they can also give you another link in the organic results. When you create a separate page for each of your stores, you provide Google with another URL to rank. This means that for a single search, you could have as many as three listings in Google: one in the map pack, your homepage in organic results and your location page.
So what are you waiting for? Get started creating location pages for your business today!