There are a host of reasons why businesses use SEO. One of the main objectives is customer conversion. You get as many people as possible to visit your store and website and convert them into customers. It even works with physical stores. A huge amount of people who carry out a local search on Google end up visiting a nearby store.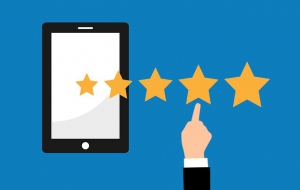 One way that can help to acquire users and to convert them into customers is positive reviews. Most consumers read reviews before making purchases. People are trusting reviews more and more so having positive reviews is becoming increasingly important.
But getting reviews can be tough. That's why we've created this guide to help you get more reviews.
Launch an email campaign
If your business has a list of customer emails than you're already way ahead of your competition. Even if they aren't all customers, this is a huge opportunity to get some fresh reviews for your business.
The first step is to sign up for email marketing software so that you can start sending out emails. You'll also want to create a landing page and an offer to get more consumers to sign up for your email list.
Once you have your list added to your email marketing software, start sending out emails ASAP. You'll also want to set up automatic review emails every time a customer buys something from your online store.
Ask for reviews
You should be asking all of the customers who visit your store and buy something to leave a review online. They may not think about it if they are buying in person but their reviews are just as valuable.
You don't have to ask them in person if you don't want to. Creating an advert at checkout that directs people to a URL where they can leave a review is a great option. You can also use your social media pages to encourage people to leave reviews, too.
Engage customers
Not all reviews are going to be positive. There will always be some bad ones whether they are warranted or not. But that doesn't mean you should ignore them. Instead, engage every customer that leaves a review, good or bad. That way, at least you show you are a communicative owner.
Responding to bad reviews can even help you to turn those 1-star ratings into 5-star reviews. Talking to someone about their experience and finding a way to improve it can often lead to customers changing their reviews.
You'll also want to thank customers who have left good reviews so that future reviewers are encouraged to leave a review in the knowledge that their words will be acknowledged.
Spread the word
You should try and share your very best reviews on social media and your website. Again, this might be a great way to encourage even more positive reviews in the future. When people see the great things that people have to say about your business, they'll be encouraged to try you out.