Word of mouth from friends and relatives was traditionally used by consumers to decide whether or not to buy products or services. That or they had to buy a product for themselves to try it out.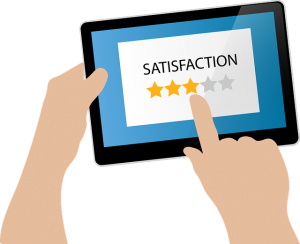 That's not the case anymore. People aren't so inclined to make risky purchase decisions. That's because buyers can now easily access online reviews, which will help them find out whether or not they should buy a product or a service.
An overwhelming percentage of consumers say that their purchasing decisions are influenced by online reviews. That's why it's so important for your business to start paying attention to customer feedback and make an effort to get more positive reviews. Even more so given that reviews can also impact your SEO.
How reviews impact SEO
Reviews can either impact your business positively or negatively. Keeping track of your reviews can help you to stay in tune with your customers wants, needs and experiences. Not only can they help you to get more business, but they can also help you to improve your existing products or services. And they can help you get more traffic.
Here are 4 ways that online reviews affect search engine optimization.
Reviews build your authority
As we said, reviews act as today's word of mouth. The only exception is that reviews spread much further and much faster than real world of mouth. That means a good or a bad review have a much bigger impact on your brand's authority. They are also used by Google to determine how reliable and good your business is. The more positive reviews you have, the higher you rank in Google's local pack.
Reviews influence conversion rates
Reviews have a big impact on whether or not consumers buy from your brand. A load of positive reviews can make it much more likely that consumers purchase from your brand. Negative reviews can put consumers off from purchasing from your business. It's no good having lots of traffic from your SEO efforts if you have terrible reviews that damage your conversion rates.
Reviews affects your rankings
Online reviews are one of the most important local SEO ranking factors. As well as your Google My Business profile and your business directory citations, reviews play a role in helping you optimize the following:
The Google Local Pack. These are the top three results displayed for local queries. The more reviews your business has, the more likely your business is to show up in these results
Google Map. Better reviewed businesses are likely to be displayed more prominently and more regularly in Google map results.
Reviews can even help you optimize your organic SEO presence.
Reviews are crucial to your SEO efforts. Not only can they help you to rank higher on their own, but they can also have a negative impact on your SEO efforts if they stop people from converting. If you need more reviews, speak to our team today to get more positive reviews as quickly as possible.