Search engine optimization is essential for businesses of all sizes. With the right strategies, you'll be able to increase traffic to both your online store and your physical store. Local SEO is the practice of ranking your brand in a particular area. But did you know that Local SEO doesn't have to be limited to one location? Plenty of businesses have stores in more than one city. All of those stores can rank highly with the right local SEO strategy.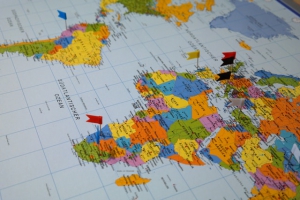 Here's how you optimize for multiple locations
Set up pages for each location
When you're ranking for one location, it's best practice to include your location at the bottom of every page on your website. This helps Google to know exactly where you are based. But that doesn't work if you have multiple stores.
Instead, you'll want to create a page on your website that is dedicated to each location. These pages should be high in detail and include specifics about where your business is located, its phone number and how customers can get there — the more information the better.
Optimize for each location individually
You can't rank locally in Google if you don't optimize for each location individually. When it comes to single location local SEO, you would normally create citations for that business along with a Google My Business page. You'll need to do that if you have multiple store locations. The only difference is that you'll have to create multiple citations and a Google My Business profile for every single location.
You'll have to provide a unique name, address and phone number (commonly known as NAP) for every location that you have. Note, that even the name has to be different, so instead of "brand name", you call each location "brand name [location]. If any of these pieces of information is the same for any of your locations, Google may struggle to rank you locally across each store.
You'll also need to create a unique Google My Business account for each location. These can be managed from one single account but every location must have a separate and unique page with different details.
Build links to your location pages
Link building is an important part of organic SEO, but it also plays a role in local SEO, too. As such, you'll need to build links to each of your individual location pages. Part of this will be achieved by your citations, particularly if you include a URL when you create them. But you'll also need to write blogs and guest posts, offer sponsorships and run other link building techniques to achieve this.
Manage and improve your reviews
With a separate Google My Business page for each of your locations, you'll need to gather, manage and improve reviews for each of your business locations. It starts with encouraging reviews at all of your locations. Make sure that everyone who comes into your individual stores knows that they can go online and leave a review. You'll also need to respond to each of the reviews, particularly the negative reviews in the hope that the reviewer may upgrade your review.