Shopping in physical stores is becoming less and less common by the day. Many customers prefer the ease and speed of shopping online and having stuff delivered straight to their door. As many as 80 percent of customers won't even visit a brick and mortar store unless they have their inventory online, says a report by Kibo.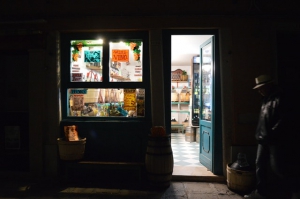 The rise and rise of eCommerce is threatening to wipe out many local stores. But there are still opportunities to win online. One of them is Google's Local Inventory Ads.
What are Google Local Inventory Ads?
Local Inventory Ads are a form of Google PPC ad that let physical store display their products at the top of the search engine results for relevant searches. If a searcher is looking for soap near her, a local beauty shop will be able to promote their own soap, for instance.
If a searcher clicks on the ad, they will be directed to the stores local storefront, and online version of their brick and mortar store that lets shoppers see what is on offer, how much it is and then provides directions via Google Map on how to get to the store.
What are the Benefits of Local Inventory Ads?
Google's Local Inventory Ads provide several benefits to physical stores of all sizes
1. Take your physical store online
Google Local Inventory Ads offer a fast and easy way to get your store online and take a piece of the eCommerce pie. You don't need any other presence and it's very quick to get started. Best of all, because the searches are local, you'll be able to tempt people to come and visit your store rather than buy online.
2. Showcase your products
Unless you are a huge brand it can be almost impossible to get your products on the front page of Google. Local stores simply don't have the budget to pay for normal shopping ads. But Local Inventory Ads are different. Because they are local, they are much cheaper and there is far less competition. Any store can get on the front page of Google for relevant searches as a result.
It's also a great way to build brand awareness. Even if searchers don't click on your ad and visit your store, they will still see an advert for your business.
3. Stand out against competition
There's a good chance that most if not all of your competitors are not using Local Inventory Ads at the moment. This gives you a great opportunity to separate yourself from the pack and win over a lot more customers.
How To Set Up A Local Storefront on Google?
At the moment, Local Inventory Ads can only be used by stores in the US, UK, Australia, Brazil, Canada, France, Germany, Japan, Norway, and Switzerland.
You also need to pass several criteria:
Owns a physical store which is open to the public
Sells physical products which shoppers can buy without having to pay for anything else (i.e. membership)
Physical store must be located in a country where ads will be targeted to
Store owner must take precautionary and active measures to secure their customers' Personally Identifiable Information (PII)
If you do, you're all set to have your products listed at the top of Google!