Here's a magic tip: you don't always need paid tools to generate keywords that convert. Google is a vast platform and there are many underutilized tools when it comes to SEO. One of which is Google Autocomplete.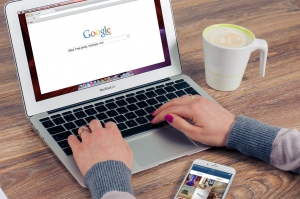 Most people will just use this feature to speed up their search on Google. But savvy business owners and SEO gurus use the feature to get a list of high-quality long-tail keywords. In this post, we'll show you how to join them.
Google Autocomplete
Google Autocomplete, also known as Google Suggest, was launched in 2008. This algorithm works in the background and predicts search strings through machine learning. The catch here is that Google Autocomplete customizes its suggestions based on the region, language, and search history of an internet user.
How to generate keywords using this tool
Step 1. Think of your base keyword
Some of the examples of a base keyword are 'wedding photographers', 'pizza store', 'best hair iron', and so on.
Step 2. Add your location if it's relevant
Next, add your business' location, though this isn't always necessary depending if you're ranking locally or not. As for the examples above, you'll have 'wedding photographers in Chicago', 'pizza store in NYC', etc.
Step 3. Shuffle word orders
You can also shuffle the order of words like 'Chicago wedding photographers', 'NYC pizza store', and so on.
Step 4. Choose from the suggestions at the bottom of the results
Enter the keywords into Google and scroll down to the bottom of the page. As you'll see, there is a number of recommended searches with additional words added to your base keyword. You can also try to click one of these suggestions and you'll get more and longer autocomplete keywords from there.
Step 5: Type through
For non-location and non-product keywords, you can type through the Google search bar and suggestions will be generated automatically. This is a tried and tested tip in generating long-tail keywords, especially if you're optimizing for voice search. Again, you can select one of these suggestions and click your cursor on the search bar. This will generate more autocomplete keywords for you.
Additional tip: If you want to generate autocomplete keywords from Google, Bing, YouTube, Yahoo, Amazon, and more, you can use Soovle.com. It's a free web tool that makes keyword generation a total breeze.
Create a keyword list
To make this process organized, we recommend making a keyword list then placing the autocomplete suggestions under each base keyword. That way, you can easily select the keywords that suit your business.
Can I use all keywords from Google Autocomplete?
Technically, many keywords from the Google Autocomplete are useful, but not all. Some of the suggestions have little to no traffic. Also, some have very high competition. So overall, you can make a list and check the traffic and competitive level using a separate tool. Fret not because tools like UberSuggest are free.
Final words
The Google Autocomplete tool is more than just a word predictor. It also gives SEO practitioners a free and convenient tool to come up with keywords and ideas for content.